Our product line consists mainly of a range of on-line process analysers, specifically designed to measure sulphur compounds in a process gas or liquid stream. In addition to process analysers we have some products packaged as bench or rack mount for laboratory applications.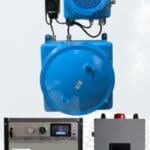 LASERSMART – MULTI GAS ANALYSER
THE MOST ROBUST MULTI GAS ANALYZER AVAILABLE Our innovative photoacoustic spectrometer is based on patented Helmholtz resonance cell combined with Laser Diode, Tunable Diode Laser or Quantum Cascade Laser suitable for trace gas and bulk gas detection.

NOVASULF™ II TG500
The metered sample is mixed with a continuous flowing stream of hydrogen. The mixed gases are heated together in a reducing catalytic furnace at a temperature between 650°C and 1200°C, depending on application, where the sulphur compounds in the sample are converted to H2S.